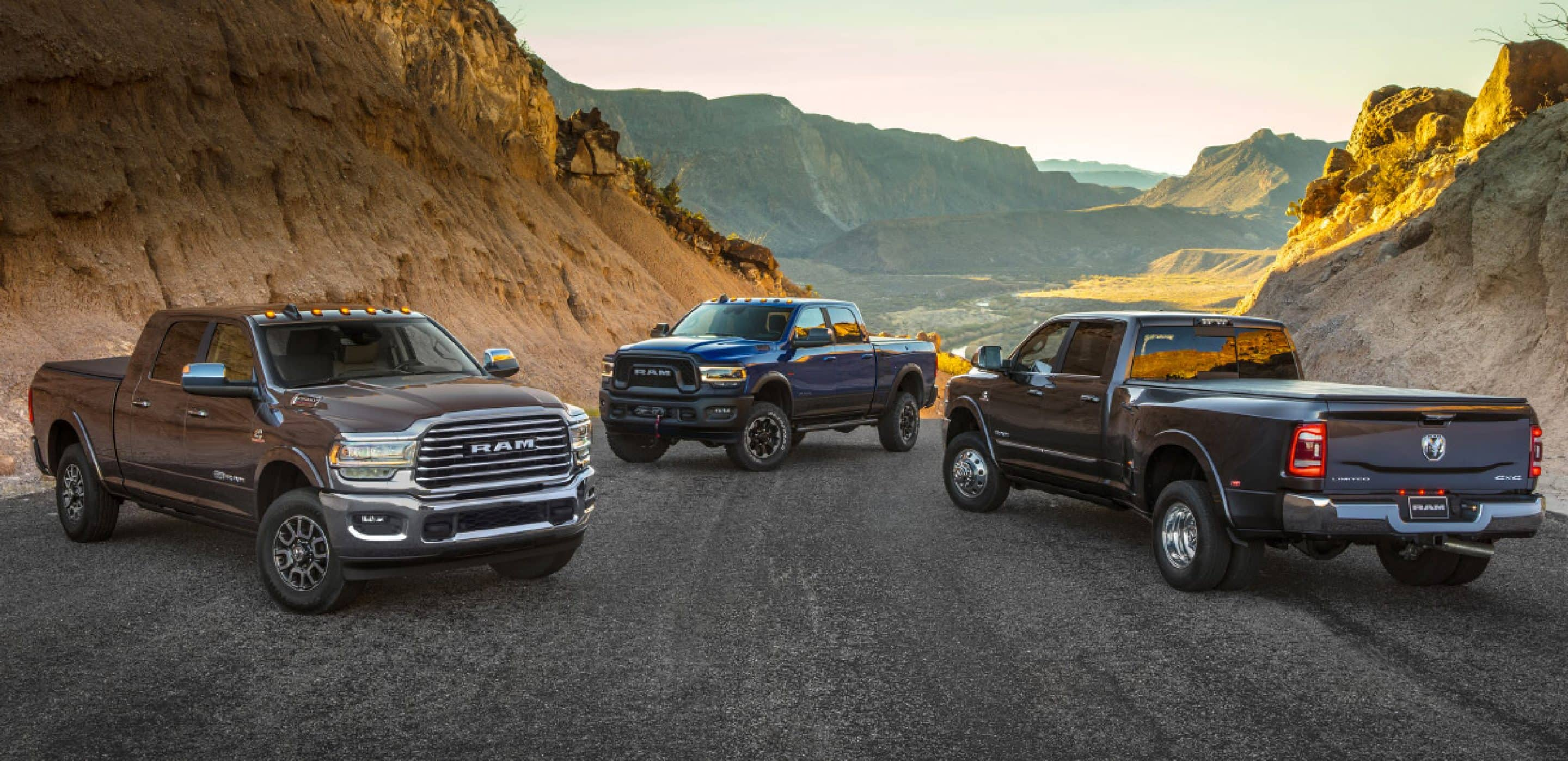 Power and Handling of the 2019 RAM HD
    The Ram Heavy Duty pickup truck has a long-standing reputation for being one of the most versatile and most capable trucks to ever be available to the public. The newest Ram HD model continues to live up to that reputation, being the most powerful truck available to truck-buyers today. The 2019 Ram Heavy Duty truck can tow up to 35,100 lbs, it has a payload capacity of 7,680 pounds, and has a torque rating of 1,000 lbs.-ft. thanks to the Cummins I-6 Turbo Diesel engine. The fully re-designed 2019 Ram Heavy Duty Truck does not just see improvements in the engine, the entire vehicle has been redesigned to create a new standard in comfort and luxury that truck-buyers will have difficulty finding in any other model.
  "Ram Heavy Duty owners constantly demand the highest levels of capability to tackle the biggest jobs and with 35,100 lbs. of towing capacity, pulled by 1,000 lb.-ft. of torque from our Cummins engine, we now hold the most important titles within the segment," said Reid Bigland, Head of Ram Brand, FCA. "We've also surrounded owners in luxury and technology that, until now, was unavailable in a heavy-duty pickup. The highest quality interiors, active safety systems and of course our award-winning Uconnect technology contribute to the best Ram 2500 and 3500 trucks we have ever built."
     The newest and most impressive upgrade to the 2019 Ram Heavy Duty truck is the Cummins 6.7-liter I-6 Turbo Diesel engine. This unbelievably powerful engine provides up to 1,000 lbs.-ft. of torque at 1,800 rpm and 400 horsepower at 2,800 rpm. This brand-new engine delivers much more power than the previous generation's. A new cast-iron cylinder head builds off of new changes such as new exhaust valves and springs, new rocker arms, lighter and stronger pistons, and newly designed connecting rods and bearings. There is a second variant of the Cummins Turbo Diesel engine which receives 370 horsepower at 2,800 rpm and 850 lbs.-ft. of torque at 1,700 rpm. Also available is a base-level engine configuration which is a 6.4-liter HEMI V8 engine rated with a horsepower of 410 and 429 lbs.-ft. of torque.
    The high-output Cummins 6.7-liter Turbo Diesel engine is paired to the AS69RC electronically controlled six-speed automatic transmission. This new transmission is designed to embrace the colossal torque that the Cummins engine is capable of outputting thanks to a dual-core processor and double the memory of the controller than in the previous generation's transmission. The standard output Cummins 6.7-liter engine is fitted with a 68RFE six-speed automatic transmission designed to improve the electronically controlled transmission's shifting quality. The standard engine, the 6.4-liter HEMI V8, is fitted with a TorqueFlite 6HP75 eight-speed automatic transmission.
    No matter which engine configuration you are sporting, the 2019 Ram Heavy Duty pickup truck is sure to be a powerful drive. This fully-loaded pickup truck comes with an extremely intuitive control system. You can rest assured with a Ram HD truck knowing that no job is too big.
Contact our sales team to schedule your test drive today.
Interested in a Ram Heavy Duty truck? Check out our listings
here
.